12 May 2016

Boost Start-Up Productivity with the Best Gadgets

In the start-up phase of a business, there are never enough hours in the day to get everything done.
This is why it is so important to use the best productivity gadgets when looking to get a new business idea off the ground. Which of the following could help you to boost productivity while letting you concentrate on making a success of your start-up?
Smart Pens
If you like the idea of physically writing down ideas, doodles and processes then moving them across from paper to a digital format afterwards can be a real effort. Wouldn't it be great to be able to store and share your hand-written notes using the latest technology?
This is where a smart pen can come in extremely handy, as it gives you a bridge between the analogue and digital information that you hold. All you have to do is write in the normal way and your pen will store the information or transfer it across using Bluetooth or Wi-Fi.



A good example of this kind of tool is the Equil Smartpen 2, which can be synchronised with Dropbox, Evernote and social media networks after you have finished writing. Impressively, it will convert what you write into editable text that you can then work with. It also works with a number of different languages.
The Sky Wi-Fi Pen is another contender worth taking a look at for productivity improvement in this respect. In this case, it offers extra features such as audio recording and downloadable apps in addition to the standard smart pen functions. One issue to bear in mind is that you need to use this pen with a special paper for it to work.
Portable Scanners
Another highly useful gadget that can help to save time and boost productivity when starting up a business is a portable scanner. One of these small and highly mobile devices can keep your company free from paper right from the very start and help you reach your desired productivity goals.



The Doxie Flip Portable Scanner is an interesting example of this type of miniature scanner. It is a battery-powered flatbed scanner that is small enough for you to take it just about anywhere. The scanning surface measures just 4×6 inches, which is A6 size.
Despite its small size, this Doxie model can be used to scan just about anything that you want to store for later use. This is because it uses a clever AutoStitch function that merges together individual scans to provide bigger images. You can definitely save a lot of time by scanning documents, photos and anything else relevant that you would prefer to look at later.
There are a number of other models on the market too, such as the VuPoint Magic Wand Portable Scanner. This model scans up to standard width pages (8.5 inches) and can run through a maximum of 5 scans in a minute.
Pocket Printers
Being able to print on the go is another enormous advantage for anyone trying to find more hours in the day to start up a new business. A mobile printing gadget will allow you to very quickly give printed copies of your documents and proposals to the contacts you meet, no matter where you are.



The Pocket Printer by Zuta Labs is one of the slickest little mobile printers around. It has a Wi-Fi connection and can be used to print out documents from a desktop PC, laptop, tablet or smartphone wherever you go.
The portable nature of this printer can be seen in the fact that it weighs just 350g. In terms of size, it is 7.5cm tall and has a diameter of just over 10cm.
There are other pocket printers on the market just now, such as the Polaroid Zip and the Fujifilm Instax. However, many of these only offer the possibility of printing off photos from a phone or tablet rather than a full printing service.
Portable Projectors
The ability to quickly set up a classy, professional presentation away from base could be a massive advantage to anyone looking to start up a new business.
By arranging presentations wherever you are, it could be quicker and easier to convince potential backers or partners of the seriousness of your ideas. The good news is that there are a number of smart options around for you to choose from.



For instance, the iGo Portable Projector is a great little gadget that gives you all that you need to project images or videos onto any presentable surface. It works up to a massive 70" size and can be connected to laptops, smartphones or Flip video cameras. It has a battery life of an hour and a half and can be used with MicroSD memory cards.
There are other portable projectors to choose from as well. For example, the Samsung SP-H03 model sits at the higher end of the price scale. This mini projector has a resolution of 854 x 480 and an image size that can be varied between 9 and 80 inches.
Kanban Boards
A Kanban board can be an essential tool for anyone trying to find the time to get a fantastic new business idea off the ground.
These are easy to use workflow visualisation tools that let you find the best way of organising the work that needs done. There are both online versions and physical Kanban boards available on the market right now.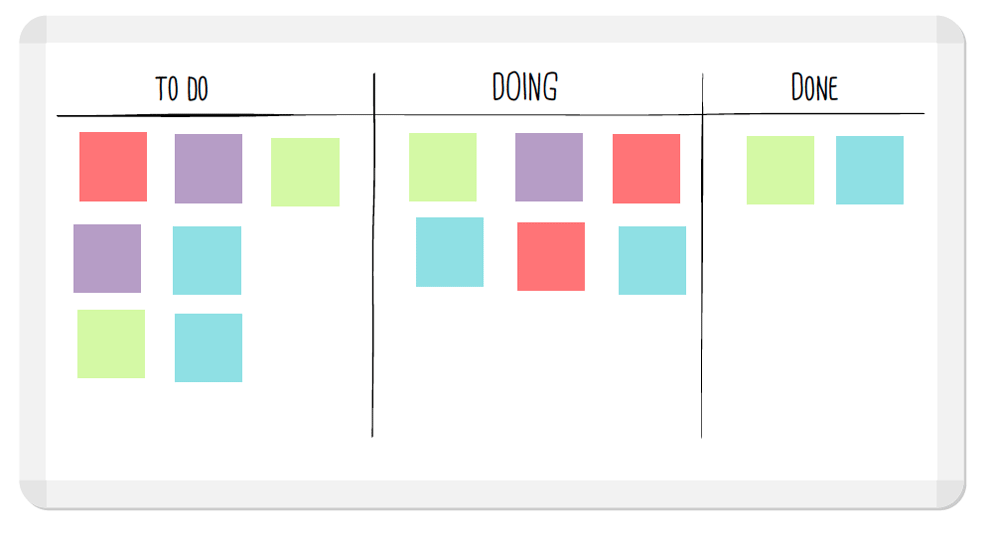 A good Kanban board, such as Kanbanchi, brings a lot of benefits to the project management industry. However, it is also the sort of tool that can help a start-up owner to pull together all the different strings of the business and co-ordinate the team's task management efforts smartly.
A design that is easy to read and a good dashboard are important, of course. As well as this you may think that issues such as Google Calendar integration and flexible sharing are among the main features that could really help out.
Charging Hub
A modern dilemma for many businesses is a lack of space to charge up all of the gadgets that the team use.
If you have an important conference call coming up with potential investors then the last thing that you need is for any of the phones in the team to be running on empty. This is why a charging hub can be one of the simplest but most valuable work productivity tools to look for.



The ChargeHub is the kind of device that could save you a lot of headaches in this respect. It is a 7 port charging hub that lets everyone in the office charge their tablet or phone without any fuss. It comes in a range of colours, so that you can find the perfect one for the corporate image you want to present.
There are a number of other options around with this type of productivity gadget too. For instance, the Olixar 6 USB Smart IC Charger has 6 ports and a maximum output of 50W. It offers fast charging and a 2 year warranty.
Conference Call Facilities
There may very well be times when you need to set up a conference call urgently when you are away from your base.
Finding the time to speak to the people who are backing your start-up can be one of the most challenging aspects of the whole thing. After all, you have a million other things to do but you simply can't afford to overlook the need to speak to these people.



The FaceVision E1 TouchCam is a very handy tool that lets you set up a smooth and professional conference call wherever you happen to be. It can be used for Full HD 1080 video calling with audio.
The universal base can be fitted on any monitor, meaning that you can quickly get set up and get the call sorted out easily.
Good conferencing calls can also be achieved effortlessly with the likes of the Logitech HD Pro C920. This is a high quality webcam and the only possible drawback is that you can only use the full 1080p on a conference call if you use Skype.
Remote Electronics Toggler
In this case, these gadgets aren't going to let you work a huge amount faster on a new business idea. However, they could give you a little bit of extra work productivity time every day by saving you some time.
The Belklin WeMo insight Switch is an example of a device that lets you switch your electronics on or off remotely. You just connect it to the electronics you are interested in and then use your Apple or iOS mobile device to control them.

As well as convenience, this kind of product also has the added advantage of letting you keep a closer eye on your energy consumption through its smart dashboard feature.
My N3RD is another gadget that lets you switch things on and off remotely using a phone or computer. In this case, the manufacturers say that it can be used to turn any office or household object into a smart one through a higher level of control.
Smart Buttons
We are used to controlling just about everything with our mobile devices these days, so moving to a physical task management button that needs pushed might seem a backwards step in some ways.



The crucial aspect here is that modern smart buttons let you control the services you access and functions you carry out on internet enabled devices. You can, therefore, save time by using this button to open up things like Twitter, Facebook, emails and to carry out your other favourite actions.
Bttn is one such gadget. It uses a Wi-Fi connection and needs a couple of standard AA batteries to make it work. Another option is called Flic, which allows you to carry out a wide range of actions just by pressing the button.
Private Cloud Storage
There are some terrific reasons for using cloud storage with a start-up company, especially if you have a project management team working in different locations or travel away from your base a lot.
If you have fears about the security of standard cloud storage options then you might think about setting up your own. This will allow you to access documents safely and securely from anywhere in the world, which could save you a huge amount of time.
The Transporter gadget offers a simple way of doing this even if IT isn't your speciality. It just needs to be hooked up to a computer through a USB cable and you are ready to use the cloud to work smarter.

In a similar vein, Seagate's Personal Cloud is a hard drive that sits next to your computer and that you can use to easily upload anything that you need to be able to access wherever you go.
Stick PCs
Being able to hook up to a computer in a hotel room or anywhere else on your travels could be a life-saver in some situations.



If you don't like the idea of lugging around a laptop or a tablet then a stick PC is a practical and low-cost solution. This could also give you extra homeworking productivity time if you need it. All you have to do is plug the stick into the HDMI port of any television or monitor and you can then access Windows or Linux right away.
The Intel Compute Stick is one such product, offering you the opportunity to access your documents and to do some work whenever you feel like it. It has 2 USB ports and supports Bluetooth and Wi-Fi connectivity.
There are some rival stick PCs around as well, such as the Asus Chromebit. This is slightly cheaper than the Intel version and offers a practical solution to your portable computing needs.
No matter what kind of business you plan to set up, these clever gadgets can help ensure that you have the time necessary to give your start-up company the best possible chance of succeeding. And of course, you can combine any of them with some good management system to be even more productive. Kanbanchi team is always ready to help you with implementing Kanban methodology.